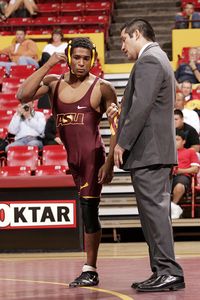 A link was posted last night under the recent Carl Joseph entry that deserves its own place on the blog. It was a story about Arizona State wrestler Anthony Robles. Robles has just one leg, but that hasn't stopped him from becoming a dominant force in the sport of wrestling.
Arizona State's Robles Climbs Into National Rankings
You can watch a video of Anthony below:
There are several things I like about this story. It's awesome to see Robles compete at such a high level, but what I really enjoy is hearing how difficult it was for him to get where he is today. Many read these inspirational stories but fail to realize the steps taken before these individuals were making headlines.
For example, in the story above, Robles discusses his entry into the sport as a high school freshman.
"I got beat up a lot. I finished 5-8 in my first year. But after that, I liked the competition; I liked how it's just one-on-one. It has a team [dimension], but at the same time, how well you do is determined by how hard you work, not what anybody else does."
Here was a kid who certainly had doubters when he first began. He then goes out and has a losing record. I don't think anyone would have held it against him if he packed up his bags after his first year. He had already defied the odds by making the team and competing. Just getting up to compete is a victory in itself. But that wasn't enough for Robles…
He worked hard, wrestling against bigger and better athletes. I'm sure he got his ass handed to him, as does everyone who is first getting started. He continued to learn and improve however. That's all that mattered to him.
Robles went 48-0 as a junior on his way to a state title at 103 pounds. He posted the same record as a senior, pinned his way through the 112-pound bracket at the state meet and capped his career later in the spring by winning his weight class at the 2006 High School Senior National Championships.
He now wrestles at Arizona State and is working his way up the rankings. This is obviously an amazing story, but let's look past his single leg. He does not consider himself disabled, so neither should we. I'm more interested in his willingness to win. How many youngsters have started a sport and given up after a poor performance or losing record? How much potential has been untapped simply because people have given up? I'm sure there were dream snatchers around Robles who thought he couldn't succeed. What if he had listened to them? What would he be doing now?
So many of us have potential that we never even realize. If Robles walked away after his freshman year, we would have never realized his potential to go unbeaten two years in a row. Who could have guessed he would be so successful?
We can all learn from this story. Life isn't supposed to be easy. The great do not become great by taking the easy road. They struggle just like everyone else. What separates the champion is his willingness to get up after being knocked down. He blocks out the dream snatchers and charts his own future. I'm sure Robles had nights when he went home banged up and bruised. He kept coming back however. He never gave up. It's been a way of life for him since he was a young boy.
In the words of his own mother,
"I've seen him ride a bike when he was 5 years old and nobody thought he could do that, and I wasn't even sure he could do that. I saw him play football and that was amazing. I've seen him play basketball. He drives a car. He's missing his right leg and drives with his left leg. People weren't sure how he was going to do that, but he adjusted. It's just Anthony's personality — if it's in front of him, he'll figure out how to do it."
Notice how she said, "people weren't sure how he was going to do that." I'm sure "people" have been thinking this way his entire life. People often think that they are smarter than they are. Fortunately, it isn't up to people to decide what you and I do with our lives. People need to worry about their own lives, and stop interfering with the lives of others. If you don't think someone can succeed, keep it to yourself. Let the individual decide on his own. Offer your support, rather than living life as a critic.
If you want to be special in this world, you need to be ready to pay the price. Chances are that you'll fail at first, perhaps many times. We all run into obstacles that at times appear too difficult to overcome. That's life. Deal with it.
And please don't misconstrue my words. I'm not telling you what to do. You don't need to overcome anything if you don't want to. I'm simply telling you what you will need to do if you want to be special. It's an individual choice that we must all make each day.
If and when you are ready to make that choice, you can learn a lot from Anthony Robles.