Following the recent equipment updates (here and here), I've received several suggestions for the homemade equipment archive contained within the forum.
Below are four recent additions to the archive:
Instructions for the Homemade Sled seen below.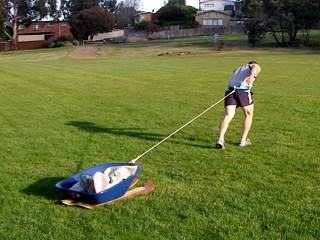 Inexpensive T-handle for swings
Sandbag Construction – video tutorial
Another option for sandbag construction can be seen here
Homemade gymnastic rings – video tutorial
The full homemade equipment listing is available at the link below:
http://www.rosstraining.com/forum/viewtopic.php?t=157
To those with additional ideas, send them over, as this homemade archive benefits us all.
Ross