It looks like sledgehammer training is catching on with the masses.  In the article below, you can read how Major League Baseball player Nick Swisher has enjoyed success with an old-school training protocol.
Bunyan-esque winter might pay handsomely for Swisher
*****
Even celebrities are swinging sledgehammers.  In the link below, you can read how Michael Clarke Duncan used a sledgehammer to help shed 90 pounds:
Michael Clarke Duncan Lost Weight With Unique Workout
*****
Boxers have long used the sledgehammer to develop power.  Legendary puncher Earnie Shavers was a firm believer in swinging a sledgehammer.  As quoted in this article, Shavers stated the following:
"Archie Moore showed all his old tricks to me when he trained me.  He got me chopping trees to improve my explosive power in my legs, back, shoulders and arms which are all places where punching power comes from. And when we trained where there were no trees to chop he brought in huge truck tires and got me hitting them with a sledge-hammer over and over.
I chopped trees or hit the tires before every single fight. Archie was the hardest hitting light heavyweight who ever lived and so he knew exactly what he was talking about."

*****
For more info regarding sledgehammer training, please refer to the link below:
You can also refer to the video below for an example of Tabata intervals with a sledgehammer.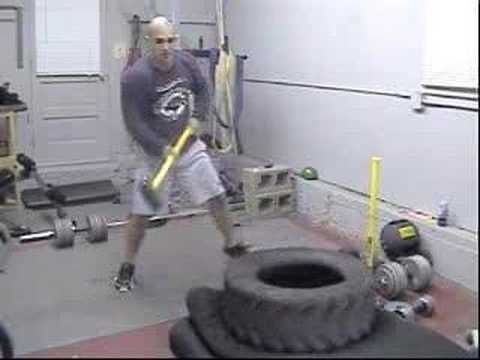 Train hard!
Ross
4 comments